Submission
Submit to Who We are to submit to one another, says Ephesians 5:21. "Submit to one another out of reverence for Christ". NIV If we are trust God is leading what more do we need when we are serving him. Why some don't submit; They don't see the point of who truly God is. "For […]
2012/11/01 3:19 PM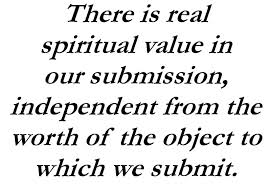 Submit to Who
We are to submit to one another, says Ephesians 5:21. "Submit to one another out of reverence for Christ". NIV
If we are trust God is leading what more do we need when we are serving him.
Why some don't submit; They don't see the point of who truly God is. "For they, being ignorant of God's righteousness and going about to establish their own righteousness,
have not submitted themselves to the righteousness of God." Rom 10:3
A great definition for submission is "humbly allowing God to lead through others." In 1 Corinthians 16:16 or "See that you also submit to such ones, and to everyone working and laboring with me." There is nothing greater a man can do than truly serve/ labor with God by submtting to him"
To did deeper we must look at he Greek word for submission, hupotasso, means "to place oneself under the authority of another." We are to submit our wills to those whom God has placed over us in authority. "Yield to those leading you, and be submissive, for they watch for your souls, as those who must give account,
that they may do it with joy and not with grief; for that is unprofitable for you. Heb 13:17 "Submit yourselves, then, to God. Resist the devil, and he will flee from you. James 4:7
If we are truly submitted to God we have taken the devil out and our ready to do the work called upon us to do But it is not easy because man tends to rebel.
The Bible says rebellion(the opposite of submission) is like the sin of divination or to not be inspired by God.
For rebellion [is as] the sin of witchcraft, And stubbornness [is as] iniquity and idolatry. Because you have rejected the word of the LORD,
He also has rejected you from [being] king."(1 Samuel 15:23).
The only exception to the rule of submission is if those in authority are abusing their position and ordering us to disobey what God has clearly instructed.
I hope this helps with a very complicated idea in the faith And i will dwell deeper into this in a post in 2013.